Main content starts here, tab to start navigating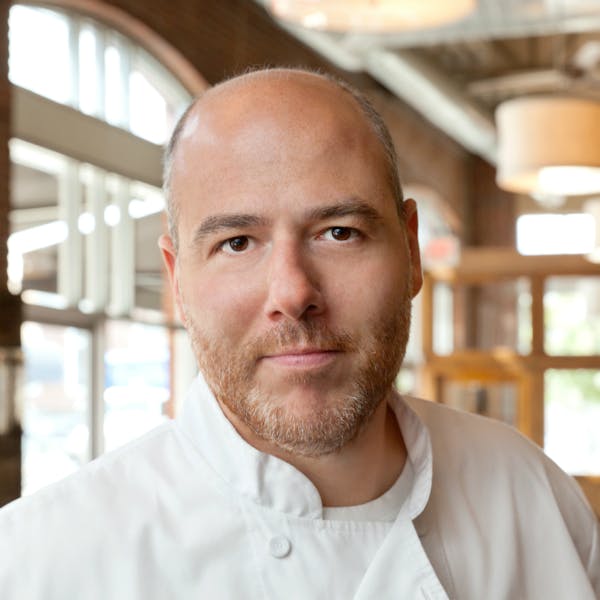 Joe Cassinelli Chef/Owner
Raised by a food-loving Italian family in Milford, Massachusetts, Joe Cassinelli has early memories of his Nonna's handmade pastas drying in the kitchen and preparing meals at home for his encouraging parents. Joe's childhood interest in cooking and baking led to a job at a neighborhood steakhouse, where he worked as a busboy and dishwasher before trying his hand behind the line one night when the sautée chef failed to show up for his shift. Joe excelled in the role and was soon following in the footsteps of the restaurant's head chef, a graduate of the Culinary Institute of America who served as a sponsor as Joe applied to the lauded program.
After graduating from the CIA in 1997, Joe quickly accepted a Garde Manger position at Boston's formidable Seasons restaurant at The Regal Bostonian Hotel to further hone his skills under the leadership of CIA alumni Chef Peter McCarthy.
Moving from one Boston landmark to another, Joe took on the role of Poissonier at Mistral, Chef Jamie Mammano's acclaimed flagship addition to the Columbus Hospitality Group. Joe's seven years at Mistral refined his craft and taught him the finer points of restaurant management. In 2002, he helped the group open sibling restaurant Teatro as the Executive Sous Chef and eventually returned to Mistral to helm the kitchen as Chef de Cuisine for two years. After more than a decade with Columbus Hospitality Group, Joe jumped at the opportunity to tackle his first Executive Chef position in 2005 on the opening team of South End restaurant Stella. During Joe's tenure, Stella quickly became one of Boston's hottest restaurants, known for its sleek setting and upscale Italian menu.
In 2006, Joe headed to the San Francisco Bay for a firsthand look at the vibrant West Coast food scene. He took the year to explore wine country in the Napa and Sonoma Valleys, fully embracing local industry and viticulture and forging lasting relationships with many talented artisans and producers. Before long, Joe yearned for his East Coast roots, and in 2008 he found himself back in Boston to take the reins at the Columbus Hospitality Group's Tuscan-inspired venture, L'Andana.
Inspired by his experience with Italian cuisine in various restaurant settings, Joe set off on what would prove to be an invaluable culinary tour of Italy in 2009. He immersed himself in the country's regional culture and cuisine, and was immediately enamored by the home-cooked food and warm hospitality that was readily integrated into daily life. He sought to carry that heartfelt approach to food and hospitality over to Boston, which he accomplished by founding Alpine Restaurant Group in 2009 and bringing his first solo venture, Posto, to the burgeoning Davis Square neighborhood.
Opening its doors in 2010, Posto embodied the warm, simple elements of Italian hospitality and cuisine that Joe admired while modernizing the classic trattoria with wood-fired pizzas, grilled meats & fish, handmade pastas and an Italian-leaning wine list. The restaurant's Neopolitan-style pizza was the first in New England to be certified by the Associazione Verace Pizza Napoletana, an impressive mark of authenticity.
In 2012, Joseph went on to expand his presence in the restaurant community in Davis Square by opening his second restaurant, The Painted Burro. The Burro, as it is commonly referred to, is a Mexican restaurant that features over 100 tequilas and 20 Mezcals and had the opportunity to showcase itself at the James Beard House. 2013 brought the Painted Burro's expansion into what is now affectionately known as the Burro Bar.
In 2014, Alpine group launched Rosebud American Roadhouse in Davis Square, Somerville after an extensive remodel of the landmark Rosebud diner originally built by the Worcester dining car company.
Osteria Posto, opened November 2015, is the culmination of Joe's years of experience running some of Boston's finest kitchens and his experience touring Italy's culinary scene to deliver a concept that channels traditional fare elevated by modern twists.